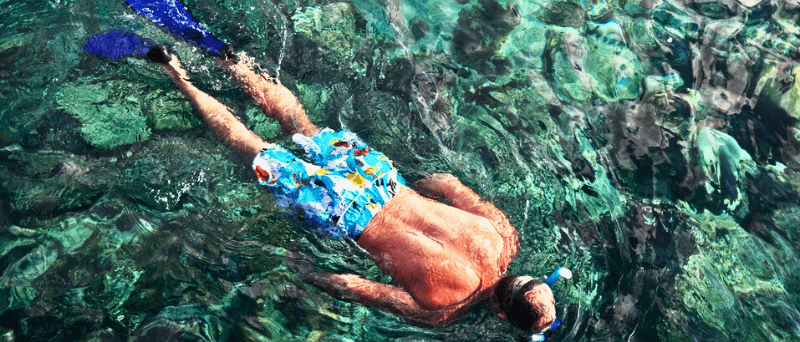 Khasab Musandam Swimming Snorkeling
Musandam is known for its crystal-clear water, and it's warm waters give you chances to swim, snorkel and explore marine life. This is a really popular activity among tourists, where they can explore the vibrant underwater world and the beauty of coral reefs and diverse marine species. You can use the following information to organize your snorkeling trip in Musandam: The best time to go snorkeling is between October and May when the weather is more pleasant, the water is at its warmest point, and visibility is the finest. Summer is a lot warmer, and you will find less visibility in the water due to plankton blooms.
Best Spots to Swim & Snorkel
There are many popular spots to swim and snorkel in Musandam. These areas are known for their clean water, coral reefs, and marine life. Telegraph Island and Seebi Island are inside the fjords and easily accessible with boat tours. Kumzar village area and Jazirat Musandam are far away, and you need to take a speedboat ride to reach them.
Jazirah Maqlab is also known as Telegraph Island is one of most natural and preserved coral islands of the region. It got its name by the British built telegraph station back in 1864. The calm and quite coral lands are some of the most beautiful and our dhow cruise ensures to provide full sightseeing of it.
Seebi Island marks the end of the fjord and is ideal for swimming or snorkeling in the ever calm and clear waters.
Tour Options in Musandam Khasab
Swimming and snorkeling are all that more enjoyable in a natural untouched habitat. Musandam Dhow Cruise takes you to the islands of Seebi and Telegraph that have some of the clearest freshest waters that make swimming, diving or snorkeling the most enjoyable. The best and most common options are dhow cruise tours. Musandam Half Day Dhow Cruise and Musandam Full Day Dhow Cruise are mostly taken by tourists to visit these excellent spots for swimming and snorkeling.
Snorkeling Equipment
It is recommended that you carry your own snorkeling gear. Don't worry if you don't have tour operators; they will provide them during the boat tours.
Safety first
These spots are safe to swim and snorkel. But it is important to follow safety guidelines. Make sure you feel comfortable in the water and are familiar with how to utilize the equipment. Pay attention to your guide's directions and keep an eye out for sea urchins and other nearby hazards. Keep your sun protection kit close by, drink plenty of water, and steer clear of the sea urchins and coral reefs.
Other Activities Along the Boat Tours
A dhow cruise not only offers you snorkeling and swimming, but you can also have sightseeing tours of fishermen's villages, explore Musandam Fjord's breathtaking views, relax on the cruise, and have the option of kayaking.
Before booking your adventure, check the weather conditions and consult with tour agencies for your perfect swimming snorkeling plans.